JOIN OUR FRIENDLY TEAM! As the shop and café becomes more popular and the business grows, our team also needs to grow. We are currently looking for a Café Manager/Supervisor, a Cook and a Barista. If you're interested, contact: karen.dunn@normandyshop.co.uk, or call 07866 427 537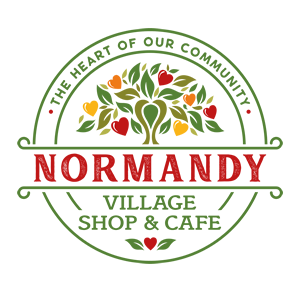 OPENING HOURS UPDATE                 
Shop & Café Opening Hours Update from Monday 13th November 
We have adapted our opening times due to staff levels and considering our quietest hours. We will continue to monitor our hours and keep you updated.
As always we'd like to thank everyone who is visiting our Shop & Café and our amazing volunteers.
SHOP OPENING TIMES
Monday 9am to 2pm – Tuesday to Friday 9am to 530pm –  Saturday 9am to 4pm
COFFEE SHOP OPENING TIMES
Monday 9am to 2pm – Tuesday to Friday 9am to 4pm – Saturday continues after kitchen closes to 4pm
 CAFÉ OPENING TIMES (full kitchen)
Thursday to Saturday 9am to 2pmopeni
Welcome to the Normandy Village Shop & Café
Welcome to The Normandy Village Shop & Café website. If you haven't already heard, the shop and café project was awarded a YourFund Surrey Council grant for over £500,000. These funds combined with the monies raised through our Share Offer of £96,000, meant that the community's dream of having its own shop and café have now come true and they are now both open!
There are nine people on the committee who form the group of directors. We have also been lucky to have other villagers who are currently supporting us with the shop and café design and accounting. We're always looking for people to work with us – there's so much to do!

We want you to join us on the final part of this journey. We are reviewing the website so that our progress is easy to follow, and you can send in your suggestions or 'must-have' produce at the push of a button.
We are very excited to announce we are holding our Grand Opening on Saturday 14 October 2PM to 4PM. Please come along if you can!
Read More »
The shop and café are both open for business now, although our business hours are reduced at present as we build up the staffing to
Read More »
We are very excited to announce that our very own Shop is now open in Normandy, alongside our Café. We have decided it is best
Read More »
Our vision is that we provide a shop and café which is owned by our community, managed by our community, for the benefit of our community. It will be a fresh, attractive and environmentally friendly focal point for the village.
We aim to sell local produce alongside everyday items to cater for your household day to day needs and to also provide those special treats!
As well as this, we provide a community meeting place that welcomes all our customers, whether they be residents or any of the many other visitors to the village, typically including running and walking groups, cyclists and dog walkers. from around the Guildford area and from further afield.
What is a Community Shop?
Community shops differ from normal retail shops in that they are owned by the community, run by the community and for the benefit of the community. That means that, rather than aiming to make profit for a retail organisation, they run to keep the store and cafe open and to pass on any additional profit to support other projects for the community. So, when you invest in a community shop, and use the shop and café, you are not only keeping the business going but you're helping yourselves and your neighbours in supporting valuable local facilities.
As with many community shops and pubs, we are members of the Plunkett Foundation, who have been working with rural communities since 1919, and who have helped in establishing many of the community shops that exist today in the UK.
You can find out more about them on the Plunkett Foundation website www.plunkett.com
Did you know we are now part of a huge family of over 370 community shops in the UK!